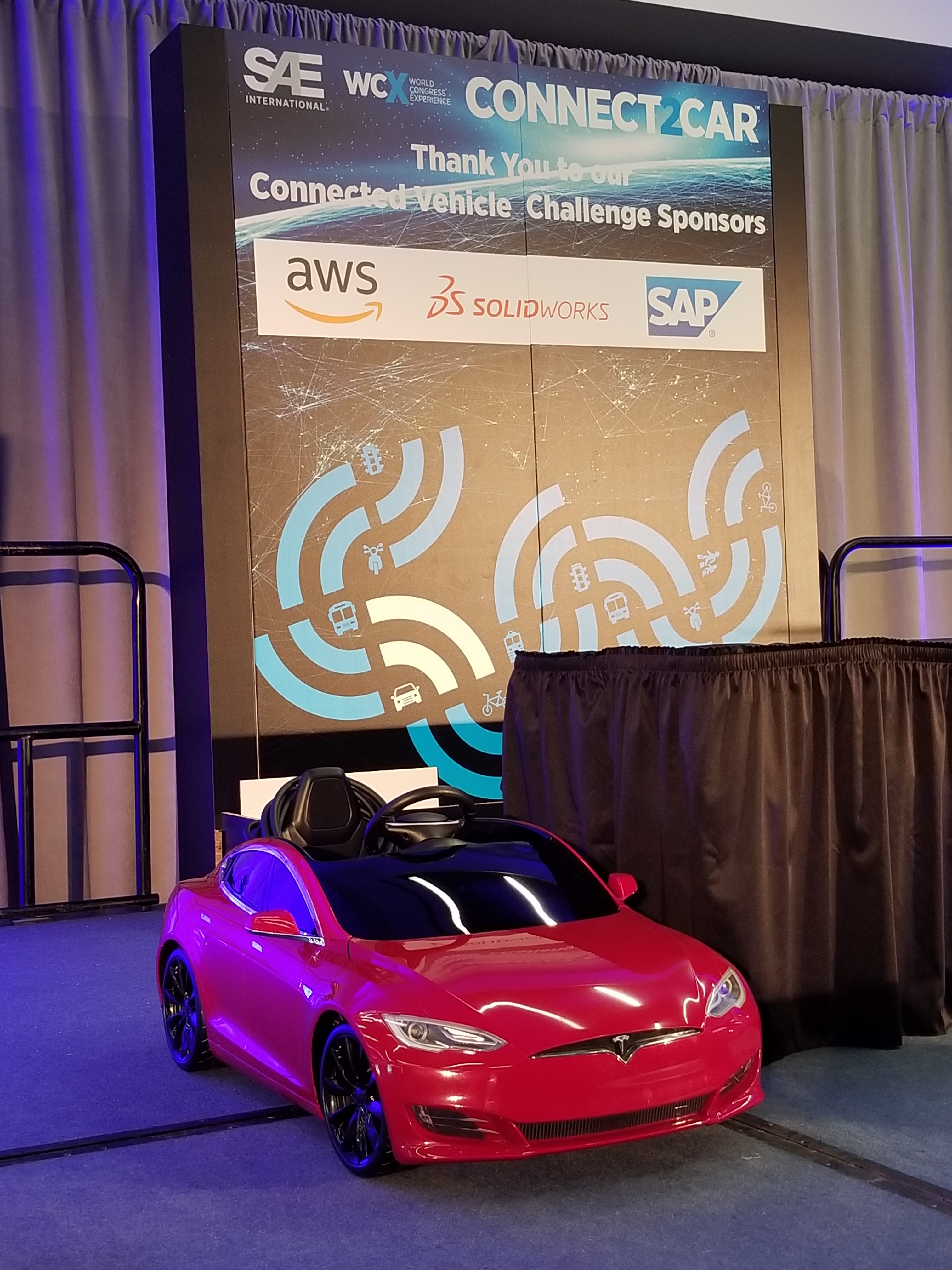 What is the Connected Car Challenge?
In late 2017, I introduced the idea of the Connected Car Challenge to the Vehicle IoT Committee of the Society of Automotive Engineers (SAE International).
The Connected Car Challenge is an open innovation competition. Participants—small, early-stage startup companies and individuals—propose, build and demonstrate an innovative connected-vehicle device, system, or application that demonstrates how vehicle connectivity can contribute to changing and improving mobility, quality of life of individuals and communities, and the environment.
The final stage of the competition took place during SAE's WCX conference in April. Generous support from Amazon AWS, Dassault Systemes Solidworks and SAP Automotive allowed SAE to award the three winners substantial cash awards of  $10,000, $5,000 and $3000.
The motivation to hold the Connected Car Challenge is obvious. The auto industry is undergoing massive changes that will continue to shape its future for many years to come. More than ever before, technology and business innovation are coming not from the R&D and engineering department of traditional automakers and suppliers but from new entrants into the space. And while nontraditional megacompanies such as Intel, NVIDIA, and Google are driving much of the conversation, still much comes from small startups and even individuals. Nearly everyone is familiar with the mega-acquisition of Mobileye by Intel, but this is but one—albeit an exceptionally significant one—of many more to come.
Findings reported in a McKinsey analysis underscore this point:
As one might expect, the majority of investment activity in the automotive space has targeted companies located in the United States. However, more than half of these companies are located in the San Francisco Bay Area, not in Detroit.
Israel and Singapore are ranked third and fourth (after the US and China) in terms of the number of automotive technology companies and disclosed investments. The innovation momentum in these countries, which do not have indigenous car manufacturing, is outpacing much larger industrial exonomies such as India, Germany, Japan, and South Korea, all countries with large automate manufacturing output.
The primary goal of the Connected Car Challenge is to attract young men and women to automotive and propulsion technologies and give young entrepreneurs a platform to demonstrate their innovation in front of the participants of SAE's WCX annual gathering of over 12,000 automotive executives and practitioners in Detroit.
2018 Challenge Winners – Where Are They Now?
As we are preparing for the 2019 Connected Car Challenge, I reached out to the winners of this year's Challenge.
The first-place winner was Ido Levy from the Israeli startup company SafeMode. The proposed solution is a cloud-based data modeling and predictive analysis of risky driver behavior. The vision Levy presented to the Challenge judges was of a platform that enables smart cities, fleet owners, and autonomous vehicles to make real-time proactive decisions by identifying and predicting risky behavior, thereby reducing casualties and property damage, and optimizing traffic flow.
According to Levy, his participation in the Connected Car Challenge helped him hone the company's message and value proposition, and winning the competition at an event at the heart of the automotive industry added important exposure and credibility.
Indeed, since winning the Challenge's first place (and a host of other competitions), SafeMode landed its first smart city customer. SafeMode's technology will be integrated into Ashdod's Living Lab Smart Mobility:  an open smart autonomous public transportation initiative based on a global collaborative innovation model developed at MIT's Living Lab.
The second-place winner, John Lindsay, introduced his Carhop signal relay technology to decrease the frequency of accidents in congested traffic. This technology proposes to overcome limitations of dedicated short-range communication (DSRC), undercarriage radar, and GPS position data.
Since he demonstrated an early prototype in front of the Channel's judging panel in April, Lindsay was granted a patent of his innovation in the UK and has patents pending in the US and Germany. He also implemented several improvements and is planning on starting a pilot implementation soon.
"The structure of the challenge helped me in several ways. Because the structure of the challenge was action oriented, i.e. development and then a progress report, it was my first serious steps in moving from idea to action." Says Lindsay. "The pause between the initial report and the second report, it caused me to reflect how I might rework the approach. And I believe that reworking allows a meaningful way to try to validate the product and its demand."
And, he adds: "I met some contacts who will hopefully provide some guidance when I move to a pilot phase."
The Connected Car Challenge 2019
We will hold another Connected Car Challenge in 2019. Finalists will participate in the final face-off stage in front of a live audience at SAE's WCX in Detroit April 9-11.
The formal call for participation will be issued in December. If you'd like to be notified when the call for participation is open, please contact me directly.
And, of course, the Vehicle IoT Committee is looking for sponsors, technology providers, and mentors to help make the 2019 Connected Car Challenge bigger and better, and more opportunities for young men and women to be involved in the mobility industry.