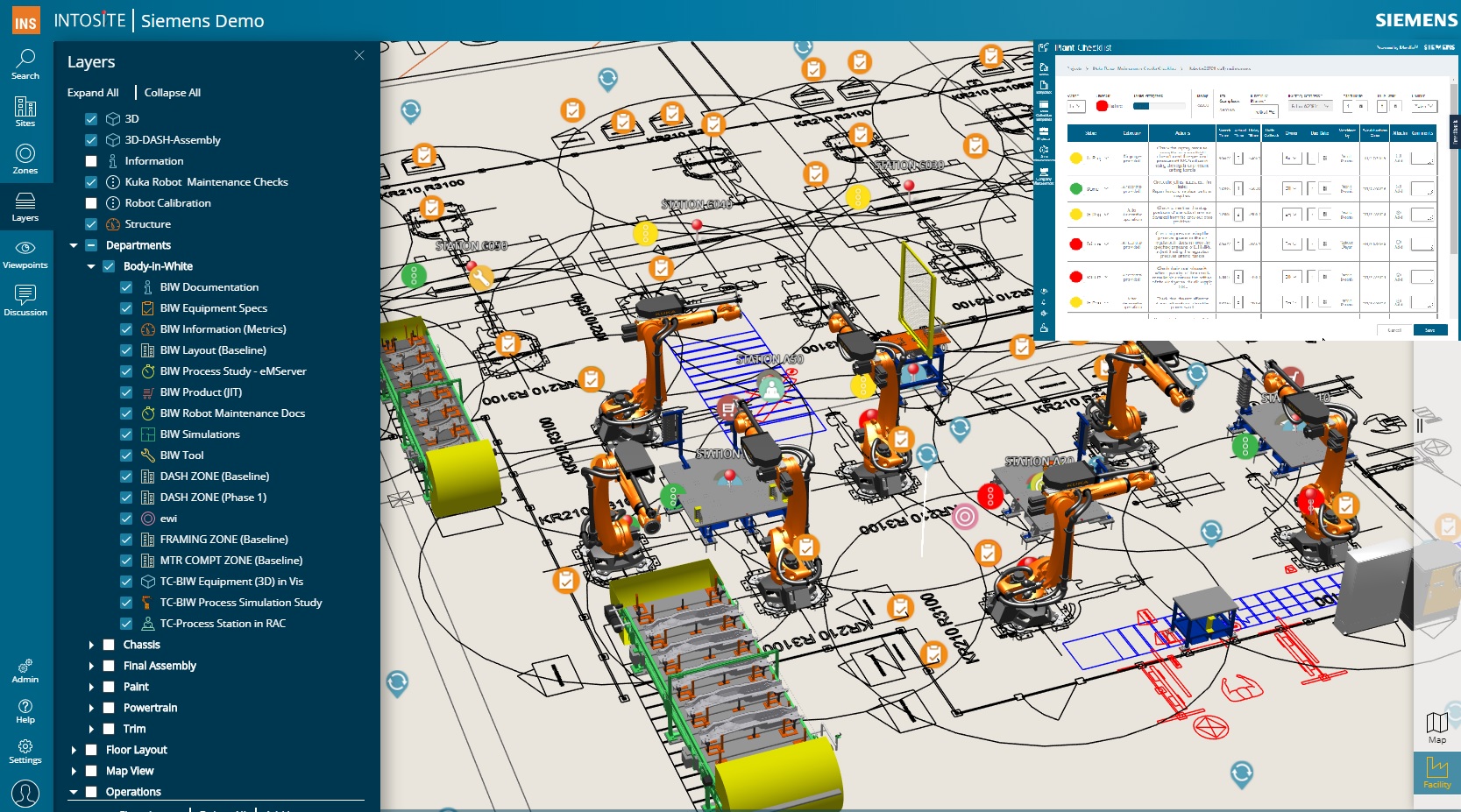 The Allure of Radical Digitalization
Fueled by ubiquitous connectivity, cloud-stored data lakes and artificial intelligence-based analytics, Industry 4.0 promises to create smart factories in which interconnected manufacturing systems communicate, in real time, with production machinery, robots and human operators throughout the entire value chain.
The digitalization and automation of factory floors and supply chains give manufacturing organizations an unprecedented insight into their manufacturing operations and product performance. Rich information from plant floor equipment and advanced analytic tools help manufacturers optimize manufacturing operations and improve manufacturing capacity, yield and quality. And as manufacturing companies in the industrial world continue to battle a growing shortage of skilled workforce, pervasive digitalization and advanced optimization help streamline operations and maximize efficiency and resource utilization.
This is the promise of Industry 4.0, and forward-looking manufacturers, line builders and equipment vendors are embarking on aggressive and innovative transformational strategies to build highly efficient plants, assembly lines and manufacturing machinery.
Accelerating Adoption
Manufacturing environment is becoming more global at an increasingly faster rate. Manufacturers are looking to exploit new markets for their products and set up distributed manufacturing networks to be closer to the customer and to leverage preferential labor rates and tax policies. These plants form diverse networked communities of manufacturing and quality engineers, machine operators and maintainers and supply chain and logistics experts that must work collaboratively across many time zones and around the clock.
Digital Twins of Production Facilities
A digital twin is a virtual replica—a digital model of some sort, such as a three-dimensional geometric model—of a physical asset. In Industry 4.0 manufacturing, the digital twin is a complete virtualized plant comprises any number of digital representations of the shop floor and manufacturing equipment and the flow of raw materials and work in progress. The digital twin represents a dynamic digital profile of current operation characteristics as well as an analytical and historical track record of the manufacturing plant.
These digital representations are not merely a collection of individual tools such as CAD and MES or data repositories such as MES Historians and job tickets. In a digital twin, these objects are tightly integrated with each other via the organization's digital thread and connected to instrumented physical assets to form a cyber-physical system that represents the entire plant and running processes in real time, and facilitates monitoring, analysis and optimization of complex integrated operations.
Real-time Visibility
Siemens WKC is a large manufacture of electrical enclosures and panels used primarily by manufacturers of production machinery. The company ships some 42,000 products annually, most of which—as much as 80%—are unique configurations designed and manufactured per specific customer requirements.
The high variability in WKC's make-to-order product portfolio was difficult to manage. Manufacturing and assembly were highly human-centric operations that involved excessive movement of materials, work in progress, tools and people. Suboptimal planning and scheduling resulted in long idle times, over production and frequent rescheduling, which, in turn, created excessive inventory. Moreover, poor manufacturing quality led to excessive amount of rework and defective product that eluded quality checks and shipped to the customers.
WKC needed a way to improve the visibility into the full manufacturing process and drive higher level of collaboration and coordination between the different value chain activities.
WKC implemented Siemens Intosite to create a multifaceted and multidisciplinary manufacturing digital twin to manage the entire manufacturing flow. Intosite is SaaS software application that acts as a centralized resource for managing manufacturing activities and creates an intuitive environment for stakeholders to communicate, collaborate and coordinate activities among manufacturing operations and across multiple plants using real-time status information.
Intosite creates a two- and three-dimensional panoramic view of the factory floor upon which key physical manufacturing resources are layered geospatially, similar to the information layers in Google Earth. Another layer depicts the manufacturing process flow and the overall business logic. Intosite creates a Google Earth-like environment to navigate through and explore the virtual plant in which the different information layers and the resources they represent are connected to numerous information resources such as IT systems, documents and web links, all constantly communicating and updated in real time.
At WKS, the ability to locate manufacturing assets indoors, where GPS signal isn't available, and identify bottlenecks to improve scheduling and reduce waste was particularly useful.
The Visual Enterprise: Visualization, Information, Collaboration
It is well recognized that visual information facilitates better understanding, collaboration, and decision-making across a spectrum of manufacturing activities and human task functions and roles, and helps bridge differences that stem from differences in language, culture and experience.
Ford Motor Company is another manufacturer exploring the use of Intosite's real-time geospatial information to improve workforce communication, collaboration and decision making.
In a presentation given at RealizeLive in 2019, Ford described the role of Intosite as a centralized collaboration and control platform linked directly to and incorporating information from a multitude of factory resources. Intosite serves as a master layout viewer and navigation tool of the entire plant and allows identification and interrogation of manufacturing stations and equipment, viewing their status and past performance, and enabling drilldowns, analyses and remedial actions as needed.
Ford, WKS and other forward-looking organizations deploy cloud-based digital twins to enable information-rich visualization and decision support activities at all levels:
Navigate: Explore manufacturing facilities and locations of manufacturing assets.
Integrate: Access and aggregate information from all information repositories, both virtual and physical.
Interrogate: Drill down, explore and analyze information from physical assets and their digital twins.
Act: Communicate, collaborate and initiate an action; monitor and optimize throughout the product lifecycle by reusing knowledge and applying long-term lessons learned.
Are old Factories Deprived of the Industry 4.0 Opportunity?
It may be easy to envision a greenfield Industry 4.0 project when designing a factory from a clean slate and equipping it with state-of-the-art sensors, controllers, networks and computers. However, for many manufacturers the reality is quite different.
Most manufacturing plants in the world predate the digital era. According to the Bureau of Economic Analysis, the average age of manufacturing assets and equipment currently in operation in the US is close to 20 years, and since 1990, the age of these assets has virtually doubled. Furthermore, many manufacturing companies have never made significant investments in purchasing new equipment or upgrading existing machinery.
For those working in the manufacturing industry, these seemingly alarming statistics should not come as a surprise. Industrial manufacturing equipment such as CNC machines and hydraulic presses has a very long service life. These machines can last several decades, and equipment that has been in service for 15 or 20 years can easily be in full use for another decade or longer.
These older production machines are not sufficiently instrumented and networked and cannot be managed centrally. Rather, they live on production islands: each machine is programmed individually, clipboards are still used to collect and record data, and spreadsheets are usually the analytic tool of choice to analyze key productivity and quality metrics.
Indeed, in an HBR study, 55% of respondents identified modernization of legacy infrastructure to accommodate instrumentation and connectivity as the biggest hurdle that stymie IoT projects.
A manufacturing company wanting to pursue the potential of Industry 4.0 cannot wait a decade or more until a piece of manufacturing equipment is old enough to justify purchasing a modern IoT-capable machine. Tearing down the entire line and starting from scratch is not a viable option either.
Does this mean that the promise of Industry 4.0 is available only to newly-build factories? Are older, brownfield factories deprived of this lucrative opportunity?
Manufacturing organizations need a way to bridge the connectivity gap for the remaining service life of existing manufacturing equipment and employ technology to put existing infrastructure on the factory grid to automate the collection and harmonization of operating data and benefit from modern Industry 4.0 methods and practices. Simultaneously, they should lay out the foundation for the rapid and cost-effective adoption of modern instrumented and connected machinery as dictated by business conditions.
Bringing Old Factories to (Digital) Life
Brownfield manufacturing facilities, constructed decades ago, are seldom well-documented. Information about physical layout of the plant and installed equipment, location of pipes and ducts, and access to electricity, water, compressed air and other utilities is typically incomplete and often inaccurate. Whatever scarce information is available, is typically on paper blueprints rather than in electronic files.
Without this information, bringing old factories to the 21st century manufacturing 4.0 era appears daunting and difficult to justify.
But manufacturers can bring old factories to the 21st century.
Using 3D laser scanning technology, existing facilities can be scanned and converted into a high-resolution point cloud model of the 'as-is' factory layout, installed equipment and the location of fixtures and utilities. The point cloud is then converted into high-definition CAD and BIM models and photorealistic images. Plant engineers can reverse engineer the plant, check floors and walls for plumb and flatness, add, remove and move equipment, and plan refurbishing and upgrades, all in a high definition virtual plant that not long ago was nothing but a few blueprint sheets.
Portfolio Power
The power of the manufacturing digital twin in realizing Industry 4.0 vision is in the aggregation of multiple design, analysis and manufacturing process management tools. For instance, Intosite is integrated with the Siemens Mindsphere IoT platform that connects to manufacturing equipment onboard sensors. When Mindsphere's predictive analytics detects a change in operation parameters that indicate an impending failure, it notifies Intosite that, in turn, communicates the information to the appropriate line workers and updates the visual information accordingly.
Forward-looking product organizations use an enterprise digital thread to synthesize a broad spectrum of information from physical assets, enterprise information repositories and analytic tools and curate rich multidisciplinary context to drive better product related decisions. For instance a manufacturing engineer using Intosite to evaluate a manufacturing process, can incorporate ergonomic assessment in order to optimize the process while reducing line workers fatigue and potential injuries.
The visual collaborative decision-making of Intosite makes complex multidisciplinary decisions easier. Visualization removes much of the political and cultural biases that often stand in the way of reliable cross-domain decisions and inspires a culture and a process for objective and evidence-based decision making.
---
This article was sponsored by Siemense Digital Industries
Image: Siemens Digital Industries